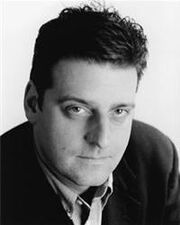 Andrew Dunn
is a English actor who is best known for his role in as
Tony
in
Dinnerladies
between 1998 and 2000, however he is also known for other works.
Televisual Appearances
Edit
All of You Mine - Theatre Production, 1997 (as the Bush, husband and wife)
Dinnerladies - BBC TV, 1998-2000 (as Tony Martin)
Between Two Woman - Feature Film, 2000
Bremner, Bird and Fortune - Channel Four, 2002 (as Alistair Campbell)
Ali G in da House - Feature Film, 2002
No Angels - Channel Four, 2003
Coronation Street - ITV, 2003 and then 2006 (as Roger Stiles, Janice's boyfriend)
Gifted - TV, 2003
55 Degrees North - BBC TV, 2004-2005 (as a regular)
Blue Murder - ITV, 2005 (as Eddie)
The Jealous God - Feature Film, 2005
Dalziel & Pascoe - BBC TV, 2006
Cake - BBC TV, 2006
Art - York Theatre Royal, 2006 (as Marc)
Popcorn - Feature Film, 2007 (as Max)
Dinnerladies - stage adaptation of the TV programme, 2009 (as Tony Martin)
Law & Order: UK - ITV, 2010 (as Martin Douglas)
Doctors - BBC TV, 2005, 2008 and 2011 (as P.C. Mickey Bell, Des Broad and Owain Brumpton)
Outside Links
Edit
Ad blocker interference detected!
Wikia is a free-to-use site that makes money from advertising. We have a modified experience for viewers using ad blockers

Wikia is not accessible if you've made further modifications. Remove the custom ad blocker rule(s) and the page will load as expected.