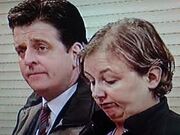 "Big Glenda" (played by Sue Cleaver) was a bread deliverer and was normally seen along side fellow bread supplier Norman.
Bladder problems
Edit
Big Glenda was constantly referring to a bladder operation- the nature of which was unknown- and was always complaining about needing the toilet and being unable to perform certain duties. She had explained part of the surgery as it being needed to correct "a bit hanging down" although Tony joked that it was actually a sex change operation and once likened her to Desperate Dan from the Dandy.
Ad blocker interference detected!
Wikia is a free-to-use site that makes money from advertising. We have a modified experience for viewers using ad blockers

Wikia is not accessible if you've made further modifications. Remove the custom ad blocker rule(s) and the page will load as expected.