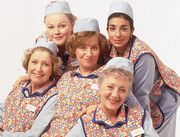 Dinnerladies is the name of a popular British comedy series written, co-produced and starring Victoria Wood. The series ran for two seasons on BBC One for 16 episodes and from 1998 to 2000.
The only set used within Dinnerladies was that of a canteen. The canteen was that of a fictional company named HDW Components, in Manchester. The main characters of the series worked in this canteen. Most of the personal and social lives of the characters were regularly discussed between the characters whilst working.
Whilst being lively and upbeat, many serious themes were including into the comedy as well, such as relationships, divorce and seperation, as well as death. Most of the characters has a broken relationship with somebody, a very good example being Brenda and her mother.
Behind the Scenes
Edit
The comedy series contained only one set (not including one-off sets, such as the quiz show set and the hospital set, which were shown through the medium of another, in universe television). The series was always filmed in front of a live studio audience at BBC Television Centre on both Fridays and Saturdays. Other places and characters were only spoken about through the characters and were never seen.
Jokes were centred around real-life scenarios and were normally quick-witted. The only time a pause was allowed in a scene was when the audience were laughing and it was rare to need to repeat the same scene as the cast members were usually spot on.
Main Cast
Edit
For more characters, please see List of Characters.
Between 1998 and 2000, there were two series of Dinnerladies and 16 episodes in total. The first series ran from 12th November to 17th December 1998 and the second series ran from 25th November 1999 to 27th January 2000. Both series appeared on BBC One and are regularly repeated on G.O.L.D.
For detailed descriptions of the episodes, please see List of Episodes.
The Stage Show
Edit
April 2009 saw the stage show version of Dinnerladies, premiering in London. The show was based largely on the second series of the television seires and saw Shobna Gulati and Andrew Dunn both reprising their roles, however in the second run of the tour, Shobna Gulati had commitments with Coronation Street and was replaced.
Outside Links
Edit
Ad blocker interference detected!
Wikia is a free-to-use site that makes money from advertising. We have a modified experience for viewers using ad blockers

Wikia is not accessible if you've made further modifications. Remove the custom ad blocker rule(s) and the page will load as expected.