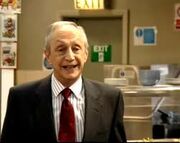 Mr Michael (played by Christopher Greet) was member of staff at HWD Components and it is assumed that his position was a managerial one as we have never had reference to his work, nor have we seen him working. His relationship with Phillippa Moorcroft was the reason for why Phillippa decided to move to Manchester and work for the company. After trying to make their relationship work, he thought it best to split from her.
Ad blocker interference detected!
Wikia is a free-to-use site that makes money from advertising. We have a modified experience for viewers using ad blockers

Wikia is not accessible if you've made further modifications. Remove the custom ad blocker rule(s) and the page will load as expected.